Visit - Jim Thompson House Museum - Thai crafts in the eyes of an American
Author: TT Date Posted:16 November 2012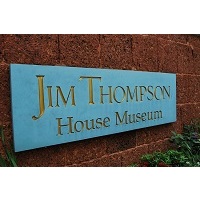 ---
Born in 1906 in the U.S., Jim Thompson first entered Thailand in the 1940's as a member of OSS (forerunner of C.I.A), who saw a business opportunity to develop high standard leisure and travel services targeting western travelers to Thailand. Though travelled so many different countries around the globe during World War 2, no place touched his heart like Thailand - it's beautiful land and unique culture. He decided to settle in and started building his home in the heart of Bangkok - what we know as "Jim Thompson House Museum" today.
Completed in 1959, the premise consists of 6 traditional style Thai houses, which, rather than built piece by piece, were mainly bought and moved from places all around Thailand. Nevertheless, he did put a lot of efforts and passion on the interior design works - as seen today, a perfect mix and match of Thai tradition and western living standard. For instance, a Thai style day bed in the centre of his living room surrounded by a pair of European sofa and four lamps sitting at each corner, and a western ensuite tiled through with Italian marble connected to his bedroom.
Walking through his house, you can see a full collection of Asian artifacts and artworks – from export china to Thai traditional painting, Burma style statutes of Buddha to teak wood handicrafts – not necessarily to be the million-dollar auction type, but more than good enough to show his deep love about Asian culture.
Not seen much around his house, but a very import fact to mention, is that, his contributions to Thai silk industry. He is the one who modernized Thai silk product and made it known and available in the world market.
Looking over the other side of the river from his living room, it's the business empire he built and dedicated to in his late life – what we know today as "The Thai Silk Company", famous for its top quality silk products around the world.
Last but always worth to mention, the café restaurant inside the museum provides beautiful service and high standard Thai food – "Aroy" (that's yummy in Thai). Sit down and have a couple of drinks or something simple and delicious to end up your trip – That's what we call "A Day"!
(more full size photoes available on our facebook, please "like" and comment on our facebood if you enjoy reading the blog!)
http://www.facebook.com/MangoTreesHomeWare
---
Leave a comment