Reviews
MeiTai Dotty
This is a fantastic product that has quite seriously changed my life foer the better. I`ve never really been comfortable setting my little baby in a stroller : I much prefer to carry him. However, I need to get work done! With this MeiTai, I am free to go about my busy day comfortably and safely carrying my sweetheart close to me. It`s great for the Queensland heat, as the sides aren`t covered over or closed and airless. The baby is happier too. He sleeps better and is much calmer, hardly ever cries and is very handy for breastfeeding. All in all I give this product 10/10 and can only wish I`d had one with my first child.
Palm & Pond Mei Tai Baby Carrier
I purchased two of these Mei Tai's for members of our Babywearing Group to try out to see if they liked a Mei Tai & also as a gateway into woven wraps. These are a great product. Beautifully padded shoulder straps & waist. Easy to tie up. Instructions are easy to follow for all carries. This is a lovely & versatile carrier that is well made at a great price!
This is the Original Palm&Pond Brand Mei Tai Baby Sling
RRP $69 each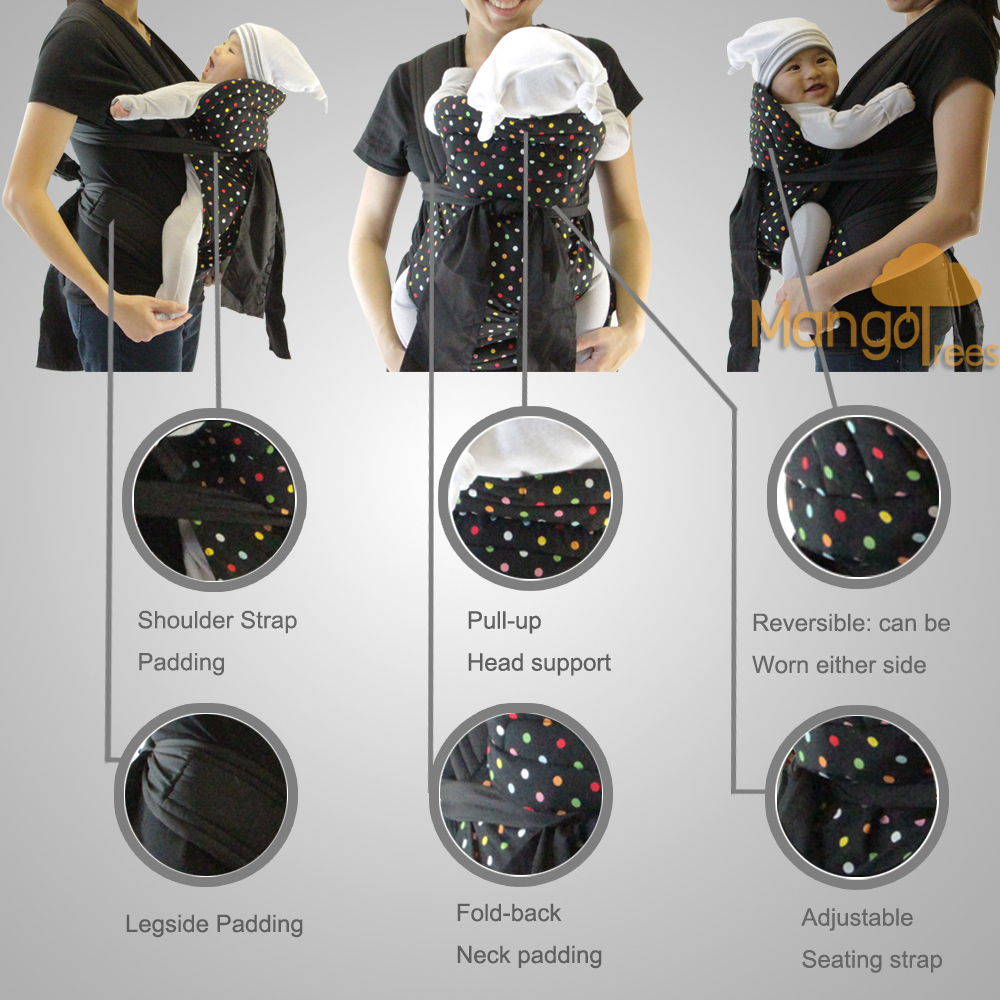 -Extra Padding to provide more comfort
-Suits from Newborn to 15kgs
-100% Cotton Fabric, 2 Colors Reversible Design
-Compact & Ultra Light Weight (approx. 300gm), easy to fold up and Come with Travel Bag
-Ergonomic Support

Using a Mei Tai sling is a very versatile and comfortable carrier as you can carry your baby on your front, back or hip.
This latest design Mei Tai sling is reversible and can be worn both sides. It is incredibly comfortable to wear, as well as for your baby to travel in.
It is ultra soft and pliable, and moulds to you and your baby's body much more easily than a lot of the more expensive brands.

Why do you need a Mei Tai sling?

-The Mei Tai sling is great for situations where you need to get the baby quickly up and wrapped
-Adjustable sizes fit all the time while your baby's growing
-Various potions to carry your baby: on your front, on the back or hip.
(A lot of great videos on Youtube to show how to wear a baby sling in various positions. Just search for "Mei Tai back carry" or "High back carry".)

Full instructions included on how to tie the Mei Tai in various positions refers to our product picture or search on Youtube by "how to wear a mei tai".

In the package:
1x dotty polkaDesign 3in1 Palm&Pond Mei Tai Baby Sling Carrier
1x Travel Bag
Instruction Guide

Note: The safety of your child is on your responsibility. Please use common sense and do not carry out any activities that could endanger the safety of your child.
(PP-MeiTaiDotty-2)
| | |
| --- | --- |
| SKU | PP-MeiTaiDotty-2 |
| Barcode # | 882235974116 |
| Brand | Palm&Pond |
| Shipping Weight | 0.5000kg |
| Shipping Width | 0.050m |
| Shipping Length | 0.100m |
| Unit Of Measure | ea |